Nuovo Pignone 6x15 DDHF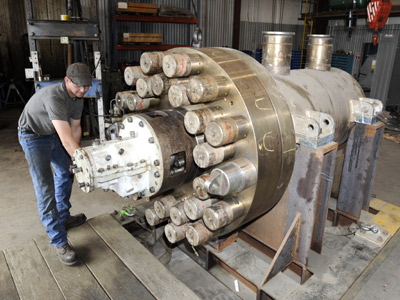 Upon disassembly and inspection, Hydro Scotford discovered that previous repairs from other service providers were low quality repairs that were performed hastily to return the pump to service. Hydro Scotford completely reverse engineered this pump and developed a comprehensive repair scope which the end user accepted and utilized as a standard for developing future repair plans.
Bingham 8x10x13C MSDD 4-stage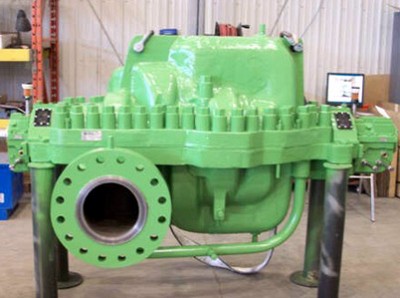 Hydro Scotford reverse engineered this pipeline pump and re-rated it to meet new hydraulic conditions specified by the end user. All parts required during the rebuild process were provided by Hydro Scotford.
Sulzer 4x6x10.5 9-stage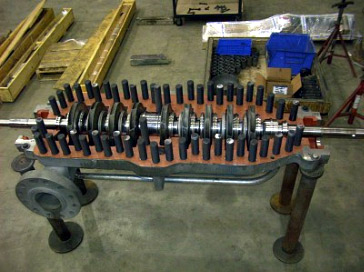 Hydro Scotford implemented metallurgical upgrades to this pump to ensure it would withstand abrasive service. An upgrade or change in metallurgy can extend a pump's mean-time-between-repairs. Hydro's engineering team will evaluate the metallurgy of your pump components and recommend material upgrades specific to your pump's application.
KSB HGC 41-4 Boiler Feed Pump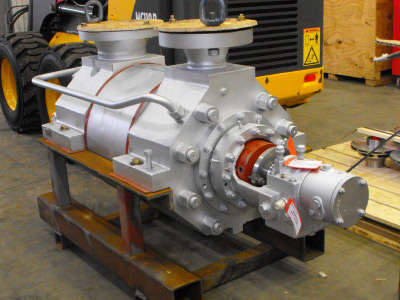 Hydro Scotford completed an emergency repair in less than 5 weeks. This quick turnaround included the manufacture of new diffuser castings on this critical spare boiler feed pump.
Flowserve 6x8x11LL 6-stage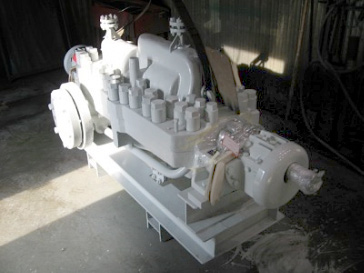 In a 10 day period, Hydro Scotford received, dismantled, inspected, weld repaired, line-bored, hydro-tested, assembled and shipped this pump. Hydro understands that when an emergency occurs, you need to get your process or plant back up as quickly as possible.
Goulds 20x32 EHC 4-stage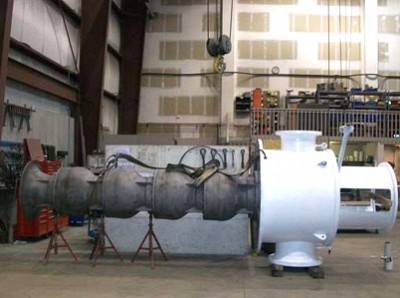 Hydro offered value to this pipeline pump user by extending our engineering expertise and implementing pump reliability improvements for this vertical pump.
Byron Jackson 32 KXL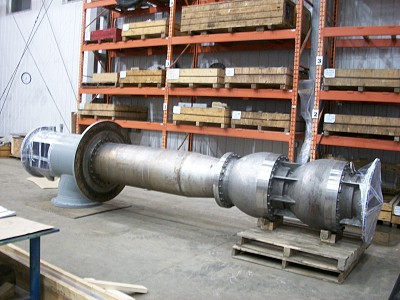 Hydro Scotford rebuilt this vertical pump using stringent repair specifications. Hydro is a leader in the engineered rebuild of vertical pumps.
Ingersoll Rand 3x10 CB 11-stage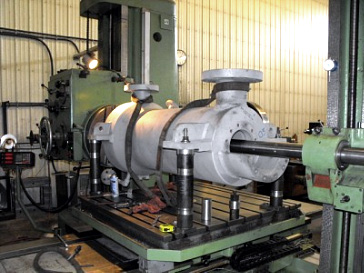 The photo above shows the method of analysis for checking the concentricity and parallelism of the pump barrel. After a thorough inspection, sometimes referred to as "barrel mapping", Hydro recommends a detailed plan for bringing the condition of the barrel back to its original specifications.
Bingham Sulzer 10x12x13 MSB 2-stage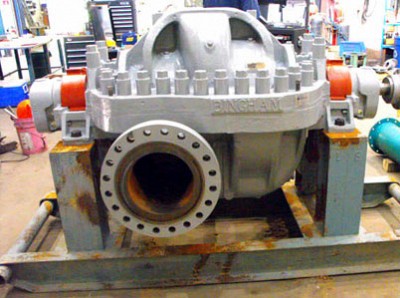 Hydro is one of the only independent pump rebuilding companies with the in-house capability and experience to perform hydraulic design modifications and upgrades. Hydro Scotford provided an engineered rebuild for a pipeline, re-rating this pump to meet new hydraulic conditions.
Ruhrpumpen 32KXF VMT 1-stage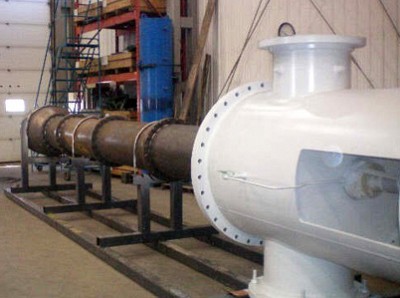 Hydro Scotford has a well-equipped service center with large machine tools and substantial crane capacity which enable us to efficiently work on large circulating water, river water, and other vertical pumps.
Byron Jackson 48 RXM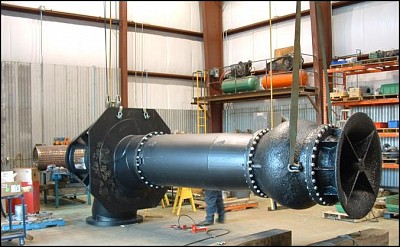 This pump from a power plant required a 2-week emergency turnaround. After 500 man hours, the pump was disassembled, cleaned, inspected, repaired, rebuilt and ready to ship 12 hours ahead of schedule. Hydro repaired the column, bowl, suction bell, line shaft, bowl shaft, impeller, and added a new head shaft with upgraded packing areas and two new couplings with coupling nuts.
IDP 3" IJ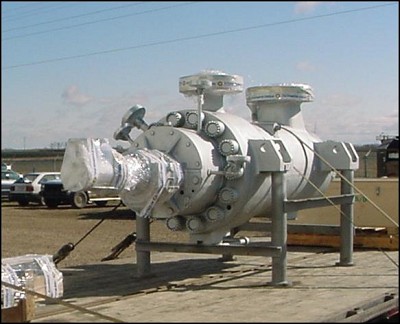 This pump, which operates in an application for the oil and gas industry, was rebuilt by Hydro Scotford. Hydro Scotford provides engineered pump rebuilding for horizontal, vertical, and submersible pumps.
Ingersoll Rand 6x13 DA 3 3-stage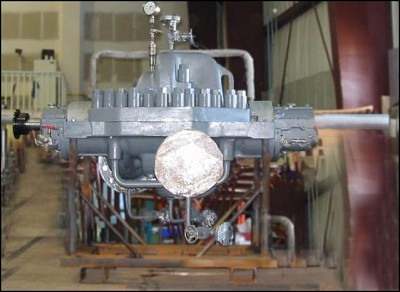 Serving an end user in the oil and gas industry, Hydro Scotford repaired and upgraded this pump with composite materials. The pump was also reverse engineered so a future hydraulic re-rate could be performed.
IDP 16QL Double Suction Vertical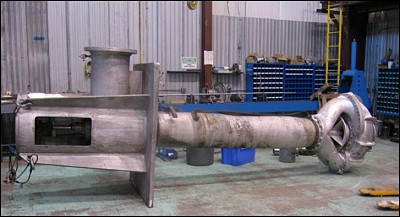 This IDP vertical pump experienced repeated failures due to chemical erosion. Hydro Scotford redesigned and upgraded this pump during the rebuild process to increase the pump's resistance to the abrasive service and improve mean-time-between-repair.
Byron Jackson 6-stage Boiler Feed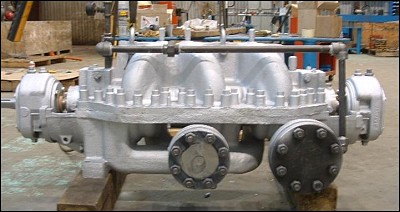 When this boiler feed pump failed due to a dry-run event at a power plant, Hydro upgraded the pump with composite wear materials. Composite materials have been proven to increase efficiency and lengthen the life of boiler feed pumps. Non-galling characteristics result in longer run times and safer pump operation. Lower clearances reduce internal pump recirculation, providing equal flow with reduced use of horsepower, resulting in improved efficiency and reduced operating costs. Rotor stability is improved and vibration is reduced which extends the life of bearings and mechanical seals.
Byron Jackson 20 MQH 3-stage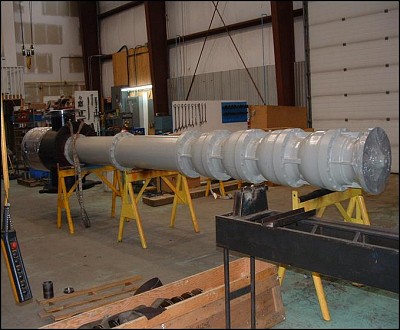 Hydro Scotford upgraded this vertical condensate return pump with composite line bushings to improve rotor stability and extend service life.
Johnston 3-stage River Water Pump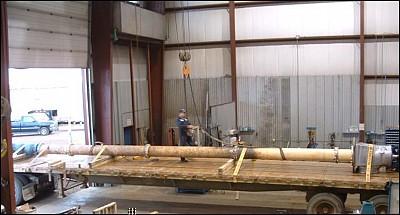 A power plant sent their river water pump to Hydro Scotford for repair. Hydro Scotford improved the fits and tolerances as well as implemented upgrades to reduce vibration, increase bearing life, reduce power consumption and extend the pump's mean-time-between-repair.
Ahlstrom LRS 2-stage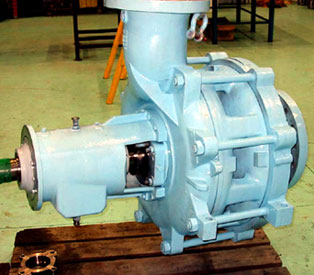 This pump, from a kraft pulp mill, processed black liquor. After performing a thorough inspection, Hydro Scotford recommended a repair plan that included machining new wear rings without slots to prevent abrasive materials from damaging the case and minimizing wear behind the casing wear rings. Hydro also designed and machined a 4-bolt split packing gland follower to help maintain alignment of the packing gland follower with the stuffing box. This engineered pump repair enabled the pump to process more than 1200 tons of material per day.
Ahlstrom 7LFG-5 Ring Segment Pump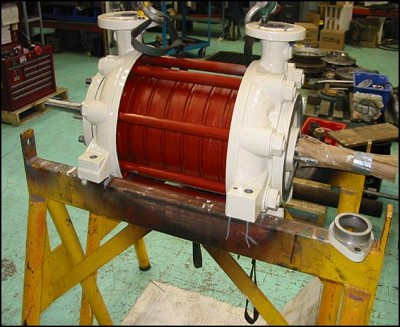 This pump, which was in high-pressure shower water service at a pulp and paper mill, was prone to failure from dry-run events. Hydro Scotford provided engineered pump upgrades during the repair process which would enable to pump to produce the required flow and head during short dry-run events.
Ingersoll Rand 1200 HC Thick Stock Pump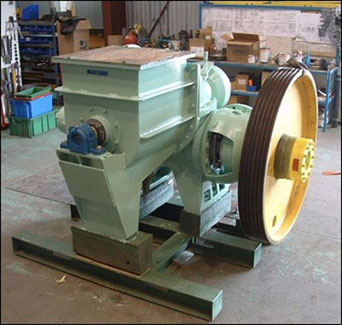 Because Hydro is solution-based and customer-focused, we are committed to rebuilding pumps from all major pump manufacturers in many types of service. Hydro Scotford rebuilt this unique pump which operated in a thick stock application at a pulp and paper mill.
Refurbished Impeller for Ahlstrom Pump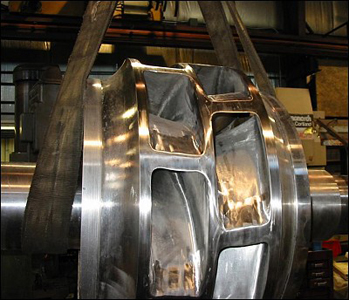 Hydro Scotford refurbished this impeller for an Ahlstrom voith fan pump used in a paper mill. The outside diameter was built up by 0.750" then the impeller was machined and hand dressed. Hydro Scotford not only refurbishes impellers, we manufacture high quality, repeatable parts utilizing our parts manufacturing center, complete with coordinate measuring machine (CMM), CAD/CAM and CNC tools.
Ingersoll Rand 29 LKM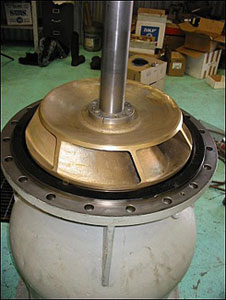 Hydro Scotford reverse engineered and manufactured a new impeller for this Ingersoll Rand pump in service at a power plant. The photo above shows the new impeller installed in the bowl assembly. Hydro Scotford utilizes a vertical assembly pit to ensure tight running clearances for improved pump efficiency.
Ahlstrom LST 61-6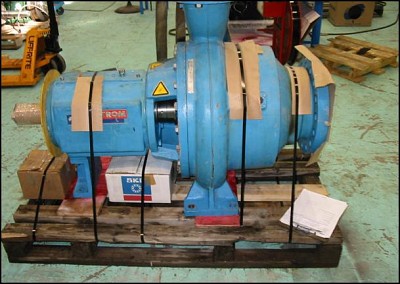 Hydro Scotford reverse engineered and rebuilt this pump for a paper mill. The rebuild included new parts which were manufactured in-house by Hydro Scotford. Upgraded materials and coatings were also provided.
Flowserve 4Mx12 AT Submersible pump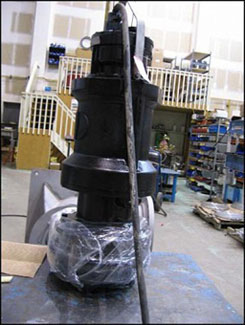 Quality and reliability in submersible pump repair requires specialized training in both pumps and motors. For this reason, Hydro formed a completely separate service division dedicated specifically to submersible pumping technology. With stringent repair processes and standards designed to improve the performance and extend the life of the equipment, Hydro is experienced in evaluating and servicing submersible equipment from most major manufacturers.
Gardener Denver Blower Model 9CDL23K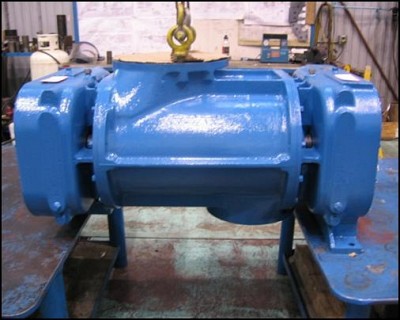 Hydro Scotford has experience refurbishing blowers and compressors. Hydro's engineering experience and in-house resources enable us to cost effectively repair and renew your equipment. Instead of just changing parts, we evaluate the condition of each component because existing parts can often be repaired or renewed.
Triplex Positive Displacement Pump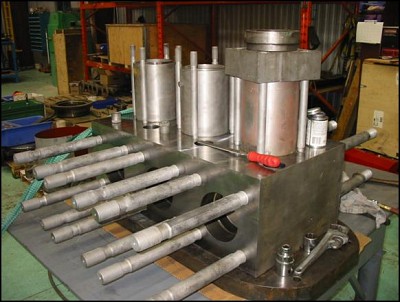 Hydro Scotford has the capability to reverse engineer and supply many unique parts. The photo above shows a fluid block which was manufactured by Hydro Scotford for an end user in the oil and gas industry.
Union VLK Vertical In-line Pump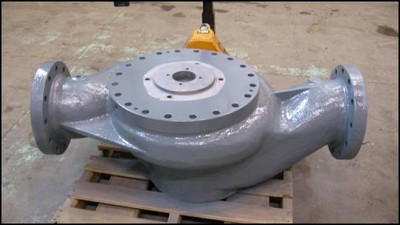 This pump was upgraded and rebuilt by Hydro Scotford.